<- Back
Speciality Classification
Medical Doctors
Duration
1 year full time / 1.5 years part time
Provider
the University of Sydney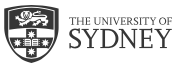 Overview
In response to COVID-19, the University of Sydney has reviewed the availability of courses to be delivered remotely for students commencing their studies in Semester 1, 2021.
This course will be available to study remotely for students commencing in Semester 1, 2021. Please note that some units of study that are not essential to completing the degree may not be available to be studied remotely.
Note: The University intends to offer as many units of study as possible in a remote as well as face-to-face learning method of delivery in Semester 1, 2021 and subject to ongoing border closures and public health orders impacting attendance on campus, in Semester 2, 2021. However, some units of study and courses require students to study in-person at the relevant University of Sydney campus/es and host locations for placements and will not be available remotely.
About this course
The Graduate Diploma in Clinical Epidemiology is a flexible fully online degree with optional face-to-face components for clinicians and clinical researchers to learn the skills needed to generate high quality clinical research, and to find, interpret, and evaluate research evidence to improve patient care outcomes.
Why study this course?
100% online course delivery - this course is offered through our interactive online learning environment, giving you the flexibility to tailor your study schedule around your lifestyle. We also offer full-time and part-time options, allowing you to decide your study load.
As a clinical epidemiology student, you will learn from leading experts drawn from a wide range of clinical and academic fields who have extensive experience in integrating research into their clinical work.
This program also covers all the essentials for the clinical researcher and provides a solid foundation for those interested in pursuing a research career.
The completion of this Graduate Diploma program can be used as credit towards a Masters degree.
What will you learn?
Throughout this degree, you will learn how to integrate theory into your day-to-day work as you develop the research skills required by many clinical training positions.
Who should study this course?
Our courses are designed to meet the needs of both the 'users' of clinical epidemiology (those who want their clinical decision-making to be based on the best available evidence), and the 'doers' of clinical epidemiology (those who want to learn the skills required to do high quality clinical research).
Course details
Faculty/University School: Faculty of Medicine and Health
Credit points required: 36
Course abbreviation: GradDipClinEpi
USyd code: GNCLIEPI1000
UAC code: N/A
Study mode: Online/Intensive with an on-campus day
Study type: PGEM
Location: Camperdown/Darlington
Duration full time: 1 year
Duration part time: 1.5 years
Availability for international students
Available to student visa holders and other eligible international students. Entry in Semester 2 is not available to student visa holders.
What you'll study
The Graduate Diploma in Clinical Epidemiology consists of 36 credit points (cp), including 12cp of core units and 24cp of elective units. Students must select a minimum of 18cp from Part A Electives and a maximum of 6cp from Part B Electives.
Title
Graduate Diploma in Clinical Epidemiology
Speciality Classification
Duration
1 year full time / 1.5 years part time
CPD Points
Credit points required: 36
Price Details
Tuition Fee for Domestic Students (Year 1): $23,625 (indicative only)
Tuition Fee for Domestic Students (Year 1): $23,625 (indicative only)