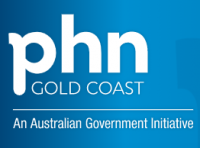 City of Gold Coast PHN (GCPHN)
Business / Practice Details
Business / Provider Type
Education Provider
Services Offered
CPD Courses, Education, Medical education
Business / Provider Profile
Gold Coast Primary Health Network
'Building one world class health system for the Gold Coast'
Gold Coast Primary Health Network (GCPHN) is an independent, not-for-profit company, one of 31 Primary Health Networks established by the Australian Government on July 1 2015, to identify the health needs of local communities and fund and improve primary health services, to keep people well and out of hospital.

What we do
We play an instrumental role working with the health sector and local Gold Coast community to improve health services for residents by:

Identifying the health needs of local residents and designing solutions to meet those needs. This includes the assessment, planning and establishment of new health services.
Funding health organisations to provide local health services across a range of areas including mental health, alcohol and other drugs, aged and palliative care, persistent pain, suicide prevention, cancer screening, immunisation, improving Aboriginal and Torres Strait Islander health and supporting general practices in quality improvement.
Helping the health system work better together for patients and their families. This includes supporting health professionals including general practitioners, to improve the quality of patient care.

Our Strategic Goals
Improve coordination of care to ensure patients receive the right care, at the right place, at the right time and by the right person.
Increase efficiency and effectiveness of health services for patients particularly those at risk of poor outcomes.
Engage and support general practice and other stakeholders to facilitate improvements in our local health system.
Be a high performing, efficient and accountable organisation.
Why us
Gold Coast Primary Health Network has a culture of continuous quality improvement, underpinned by a quality management system.
Level 1/14 Edgewater Ct,
Robina QLD 4226, Australia
Claim this profile to receive referrals from this page.
Listing current courses and events posted by City of Gold Coast PHN (GCPHN)
No matching course or event posts found.