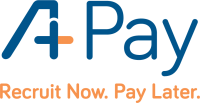 APositive
Business / Practice Details
Business / Provider Type
Industry Partner
Services Offered
Banking and Finance
Interest Areas / Topics Covered
Finance
Business / Provider Profile
APositive provide cash flow funding to Recruitment businesses and instalment payment options for Recruitment Fees.
APay is a 'Recruit Now, Pay Later' model for recruiters and employing clients.
Selecting an APay instalment option allows recruiters to be paid upfront and employers to pay in 3-6 monthly instalments.
Why us
We are recruitment industry funding specialists with 8 years experience in servicing the Recruitment industry with invoice finance, payroll funding, back office services and instalment payment options.
Lvl 3, Suite 3.03, 480 St Kilda Road,,
Melbourne VIC 3004, Australia
Listing current courses and events posted by APositive
No matching course or event posts found.