Premium Employer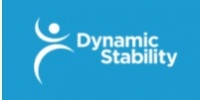 Dynamic Stability
Profile Summary
From a humble beginning in 2001, Dynamic Stability has established itself to be Melbourne's premier provider of Pilates, Physiotherapy, Massage and Skin Therapy. We have boutique studios located in both Richmond and Ripponlea staffed by senior Physiotherapists, certified Clinical Pilates Instructors and Educators.
Special Interests / Key Therapy Areas
Area Insights
Always Open
Why work with us
At Dynamic Stability, we provide the highest quality, personalised services in Clinical Pilates, physiotherapy and rehabilitation. We treat both musculoskeletal and general injuries and can assist in the improvement of core stability, sporting performance and posture. We take an active approach to injury prevention, rehabilitation and sustained health and well-being. As well as caring for physical health, our goal at Dynamic Stability is to help all our clients achieve an overall sense of well-being.
Employed Allied Health Professionals
Current jobs posted by Dynamic Stability
Job Listing - Promoted Post
Physiotherapists
Description Dynamic Stability Physiotherapy are seeking two potential Physiotherapists. Full-time and part-time roles respectively. Established for...
Job Classification
Physiotherapists
Start Timeframe:
Immediately
Richmond VIC